Advanced Diploma in Psychodynamic Counselling
Diploma in Psychodynamic Counselling
Certificate in Psychodynamic Counselling
Independent and Supplementary Nurse Prescriber
BA (Hons) Health Care
Teaching Certificate
Registered Nurse Children
Registered Nurse Adult
Clinical Experience
Whilst counselling is my main focus, I began my professional career as a Nurse. I trained as a Registered General Nurse then as a Registered Sick Children's Nurse and have cared for sick children and adults within a wide range of clinical and community environments, including as Specialist Nurse within a Child & Adolescent Mental Health Service (CAMHS). I have also held various Tutor and Education Facilitator roles within education and health care settings and as Clinical Supervisor for Nurses.
Many years ago, as my interest and focus on physical health shifted towards mental health, I realised a growing enthusiasm to develop a deeper understanding of how our minds work, how our relationships and experiences shape us as individuals and how those shapes can change. Then came a real desire to help others in a new way, which led to my Counsellor training with The Counselling Foundation. I have studied and qualified at all levels of psychodynamic counselling, worked as a Counsellor for many years, and have achieved BACP Accreditation.
Professional body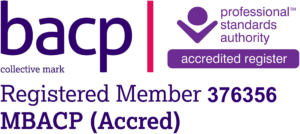 Data Protection: I am registered with the Information Commissioner's Office (ICO).
Safeguarding: I hold a current Disclosure and Barring Service (DBS) certificate.
Insurance: I am fully insured to provide Counselling services; with professional indemnity and public liability insurance cover.
Supervision: I receive regular, confidential Clinical Supervision with a Clinical Supervisor (senior colleague) to ensure good standards and ethical practice.